CHANGING FASHION, CHANGING LIVES
FASHION IS A CULTURAL MARKER REFLECTING THE TIMES IN WHICH A GARMENT IS WORN.

Lorraine Trebilcock, 1968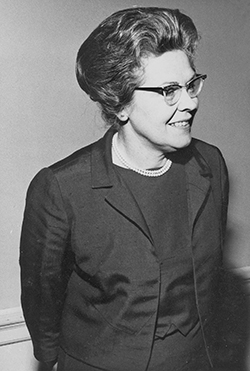 Choice in clothing demonstrates social class, identity, individual aspirations, as well as available technologies at the time. Over the course of the nineteenth and twentieth centuries, as debate raged about women's place in society, their fashions reflected wider social expectations.
The historic costume collection featured in this website reflects highlights of the dresses in the Bevier Historic Costume and Textile Collection. The collection's namesake, Isabel Bevier, began the Home Economics Department at the University of Illinois' School of Agriculture in 1920. Development and interpretation of this collection began in earnest after 1955 when Lorraine Trebilcock became professor of textiles and clothing, a position in which she served until her retirement in 1975.
In that time, Professor Trebilcock collected more than a thousand articles of clothing and other textiles to support the Department's research. This collection has enabled thousands of students to delve into clothing design and construction for each period and gain inspiration from the collection.

Nomination form for the Paul A. Funk Recognition Award, October 1974
Mrs. Trebilcock not only won numerous teaching awards at the University of Illinois, she spent much of her time taking the collection into the community. She provided "trunk shows" to many ladies' groups where she brought articles of clothing to illustrate her lectures about changing fashions and attitudes of the nineteenth and twentieth centuries. With her students, she also mounted exhibitions in the University's Bevier Hall. In these activities, she brought the work of her department to the public at large.
In 2001, the University transferred the Bevier Historic Costume and Textile Collection to the Illinois State Museum. This website was developed by the ISM and funded in part by the generosity of her daughter, Anne Trebilcock. In the spirit of Mrs. Trebilcock's trunk shows, this website places historic dresses in the context of changing roles and attitudes about women over the last 200 years.