1810: Securing a Republican Democracy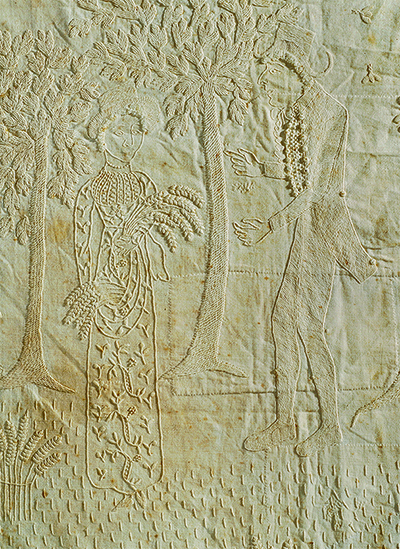 Ann Carpenter, Counterpant(detail),1815. White on white needlework reflects the Greek revival aesthetics that were popular in the first decades of the nineteenth century. The woman depicted at the center of this counterpane is dressed in an empire high-waisted dress.Collection of the Illinois State Museum. Gift of Dr.James Filipiak and Sarah Haworth Filipiak, the great, great, great, great, great grandaughter of Ann Fulcher (Carpenter) Lewis, in memory of her mother, Norma K. Smith Haworth.2011.138.
There was a moment following the American Revolution when some prominent women, such as future First Lady Abigail Adams, advocated an expanded role for women in American society. The cultural response to this request was to position women as "Republican Mothers." Educational institutions focused on teaching children classical texts—stories from ancient Greece and Rome—as models of the first democracies. Girls' education intended to educate future wives and mothers in republican ideals so they could influence democratically minded husbands and sons. Americans sought to sustain a free and prosperous republic through the influence of virtuous and educated women.
Textiles played a role. During the American Revolution, women boycotted English imported fabrics, favoring homespun. They demonstrated their boycott by staging spinning bees, where women gathered in a public place to spin their own yarns. At the same time, fashionable women were encouraged to simplify their dress to distance themselves from corrupt European influences.
In the years following the Revolution, Americans began envisioning a truly democratic society that eliminated ideas of nobility and encouraged equality across society. This thinking, however, extended only to propertied white males.
By the early 1800s, the first generation of American patriots was passing away—George Washington in 1799, Sam Adams in 1803, and Alexander Hamilton in 1804. As a response to the fear that the next generation of Americans was losing grasp of core democratic values of the first patriots, Americans began erecting classical buildings in the Greek revival style. The United States White House, finished in 1800, is a perfect example of this architectural style.
This concept extended to fashion, as well. The "better sort" of ladies in the eighteenth century had long watched the fashions of European courtiers. Following the French Revolution and especially after Napoleon became emperor in 1804, women's fashion reflected the ancient Greek and Roman chitons. Dresses changed radically from heavy, long skirts supported by petticoats and hip-broadening understructures that the French called "panniers," to columnar-shaped white gowns imitating classical Greek dress. Within a short period of time, American women were wearing similar dresses embodying these ideals of democracy and simplicity.