1890s: Simpler Clothing and a New Outlook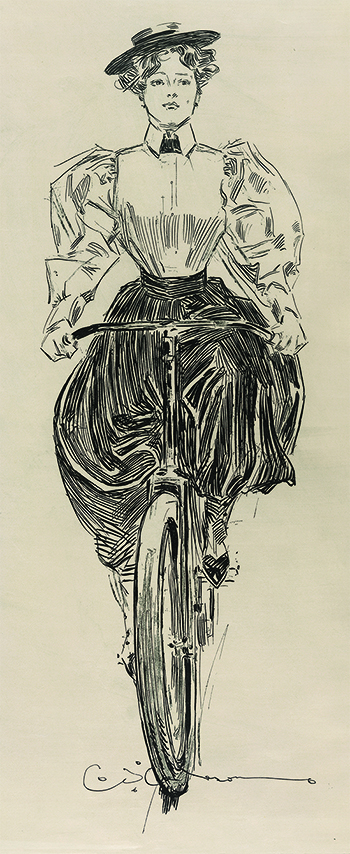 This Gibson Girl wears a shirtwaist (blouse) and skirt. With widespread media exposure in popular magazines such as Life, Scribner's, and Harper's, illustrator, Charles Dana Gibson helped make athleticism socially acceptable for women. Above:Poster (detail) advertising Scribner's magazine, June 1895 Courtesy of the Library of Congress, Prints and Photographers Division, (004.00.00) [LC-DIG-ppmsca-34349]
During the Civil War, many women stepped out of their domestic sphere, often for the very first time. While prior to the war a small minority of women had been involved in reform movements including abolition and women's suffrage, most clung to the respectable roles of wife and mother. For the educated, middle-class European-American women who organized aid societies to support the Union soldiers, the war allowed them to have a community-level leadership role, while remaining within accepted social bounds for women of the time. Many enjoyed using their organizational skills and advocated after the war for issues such as women's voting rights and the expansion of women's higher education. Expectations of women's roles in society began to change after the Civil War, and an increasing number of colleges admitted women. In 1870, only 11,000 women were enrolled in college, but by 1900, 85,000 attended, representing 10% of women. At the same time, many women worked in white collar jobs, becoming sales people, typists, secretaries, and receptionists.
By 1890, the world seemed to be stepping out of the conservative Victorian Era. In the United States, the period was called "The Gay Nineties." Theodore Roosevelt was establishing national parks and encouraging Americans to get outdoors. In popular culture, outdoor physical activities such as bicycling were also becoming increasingly popular and acceptable for women.
While still constrained by petticoats and tightly cinched waists, acceptable fashion reflected the changes in women's status and their evolving roles in society. Clothing emerging by 1900 was less complicated, easier to wear, and required simpler care. Newly popular in this period was the shirtwaist—a separate blouse and skirt that were easily washable. This style was personified in the "Gibson Girl," a creation of marketer and illustrator, Charles Dana Gibson. She was the embodiment of "The New Woman." Although some women could not or chose not to follow fashion, middle-class women who became more involved in society outside the home and attended college, demanded more freedom, and this also meant more appropriate clothing. For these women being modern meant more than simply looking modern.